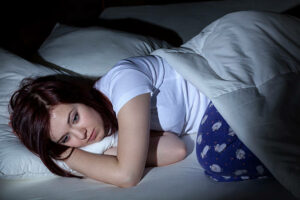 This is a study to find out how a new drug works in children and adolescents with insomnia. Daridorexant has been approved by the United States Medical Agency (FDA) , and has been tested and found effective and safe in the treatment of adults with insomnia. This study will test which dose of daridorexant safely works best to help children and adolescents with this disorder fall asleep and stay asleep. This is the first time that it will be tested in children with insomnia. If your child has difficulty falling asleep, waking up multiple times during the night or very early in the morning, or feels sluggish or sleepy all the time during the day, they my qualify for this study.
Chronic Insomnia Disorder or Insomnia disorder with supporting statements from child/caregiver
Must weigh over 55lbs
Cannot have history of any sleep-related breathing disorders
Cannot have any other sleep-wake disorders (restless leg syndrome, narcolepsy, sleep-wake disorder, parasomnia)
The Parent/Guardian may be reimbursed $1,700 if all study visits are completed.
Want to participate? Fill out the interest form! Click to Call Us!