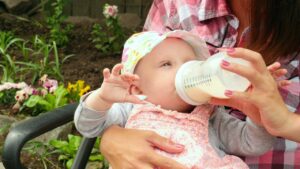 The purpose of this study is to evaluate the growth and development outcomes of infants fed a
new infant formula and toddler drink that contains a group of human milk oligosaccharides (HMOs) through 24 months of age.
HMOs are carbohydrates that are naturally found in human breast milk. There are health benefits associated with HMOs, for example, they may help protect babies against infections, support digestive health, and there is new information demonstrating potential benefits for cognitive development as well. The experimental formula contains man-made oligosaccharides that are like those found in human milk. Although some HMOs are new to infant formula and toddler drinks, they are not new to infant and toddler diets.
Both infant formulas being used in this study meet the nutritional requirements for infants. Both toddler drinks being used in this study provide nutrients similar to cow's milk with more vitamins and minerals.
Babies must be enrolled within the first 2 weeks of life
Mothers can be exclusively formula feeding OR breastfeeding
(if baby is exclusively breastfed, the study formula will be provided when the baby is weaning)
Babies must be full term (37 – 42 weeks) with a birth weight over 5.5 lb
2 years, 7 office visits and 7 phone calls between visits
You will receive a minimum of $1,050 if you complete all required study visits.
Want to participate? Fill out the interest form! Click to Call Us!