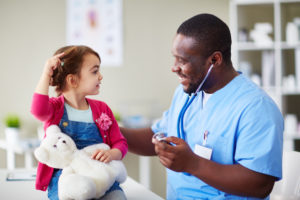 Meningococcal is a dangerous bacteria that can cause infections in the blood stream as well as infections of the lining of the brain and spinal cord (meningitis). The best way to deal with this threat is to prevent infection with a vaccination which helps build up the body's immunity against the bacteria. Doctors at National Clinical Research are researching a new investigational combination Meningococcal vaccine to see if it provides more immunity in children and young adults than what is currently available.
The CDC currently recommends two separate vaccines for children entering middle school and again when entering college, one for meningococcal groups A, C, W, and Y and a second vaccination for meningococcal group B. There are two products on your child's recommended vaccine list that are approved. They are Menveo (covers ACWY) and Bexsero (covers group B). In this study, these products will be evaluated alongside the new GSK investigational combination meningococcal vaccination, which covers all 5 groups (ABCWY) in a single vaccination. The study which we will be conducting is designed to determine whether this investigational combination vaccination produces the same protection as do the two established vaccinations.
Have had no prior meningococcal vaccinations, OR have received only the ACWY vaccination more than 4 years prior to the beginning of this study
Do not have a weakened immune system
5 office visits and 7 phone calls in 15 months
You may be reimbursed $1,110 for your participation.
Want to participate? Fill out the interest form! Click to Call Us!