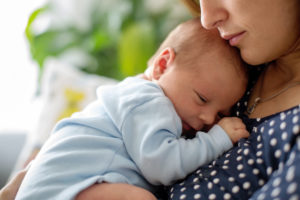 Doctors at National Clinical Research are conducting a study for mothers of young children who are planning on having other children. The study will evaluate a new investigational vaccine for cytomegalovirus (or CMV for short). This virus is the most frequent cause of newborn malformations including hearing loss, vision loss, seizures, intracranial calcifications, and mental disabilities. In many cases women develop a natural immunity to this virus by having contact with young children, but those who don't are at risk of bearing children with malformations. We are excited that medical research is seeking a way to give immunity to women with this new vaccine.   There is no cost for participating. All women who wish to be screened will be told whether they have or do not have immunity to CMV; only those who have no immunity will be eligible to continue in the study. All participants will be paid for time and travel.
Have direct contact with children younger than 5 years old
Are of childbearing potential
Agree not to become pregnant during the first 6-months of the study
Show no immunity to CMV (determined during first visit to NCR)
You may be reimbursed $50 per visit and $25 for each monthly self collection
Want to participate? Fill out the interest form! Click to Call Us!